The dream became a reality | Amanda's Blog
Published 5 August 2016 (AEDT) | Author Amanda Main
Amanda Main - Grant Nel's fiancé (diving)
This morning Grant Nel arrived in Rio and I couldn't have been more excited that he was finally there (and slightly relieved). This has been a dream of his since he was a kid and this dream has taken almost 20 years to become a reality.
I am so incredibly proud of my fiancé for not giving up and fighting for his dream to be an Olympian! 
For those of you who don't know me, my name is Amanda Main, and Grant and I have been on this journey together for about 3 years. While there have been other major competitions that Grant has competed in since we have been together, the dream of going to the Olympics has always been a burning desire. It is the pinnacle event for diving and after narrowly missing out in 2012, Grant didn't want to miss out on being selected in the 2016 Australian Olympic team.
In April 2015 the Olympic dream went from being something that we talked about to something we were actually going to chase. Grant had just come back from an international Grand Prix and he had competed well but I could see he was losing motivation, something wasn't right. I asked him "how badly do you want to go the Olympics out of 10"? He said "11" so I said "something needs to change, I think you need to move to Adelaide".
This was a big decision to make, especially since I couldn't go with him straight away. However as soon as he moved from Melbourne to Adelaide the dream was real and we were going to make it happen. I joined Grant in Adelaide in December 2015 and we have been so focused on doing everything right for the past eight months.
Even though he was training hard before, and I have always made sure we eat healthy food, everything just went to the next level. I wanted to ensure that Grant was going to have the best chance possible at making the Olympic team.
At the end of May 2016 Grant competed at the Olympic trials in Melbourne and I don't think I have ever been so nervous in my life! Grant finished third in the preliminary and semifinal rounds and there were only two spots available in his event to go to Rio. He really needed to pick things up in the final if he was going to make the team.
With all of our family and friends there to watch him in the final I was trying to keep calm but I just felt sick, I knew how much this meant to both of us and not making the team was not an option.
The noise of the crowd was unbelievable. So many people were screaming for Grant, trying to help get him across the line. It was a tight final and any of the top three divers could have taken the win. After the last diver had finished I looked up at the scoreboard and his name was on top! He had won! Grant was in tears and he was crowned National Champion after winning the men's 3m event.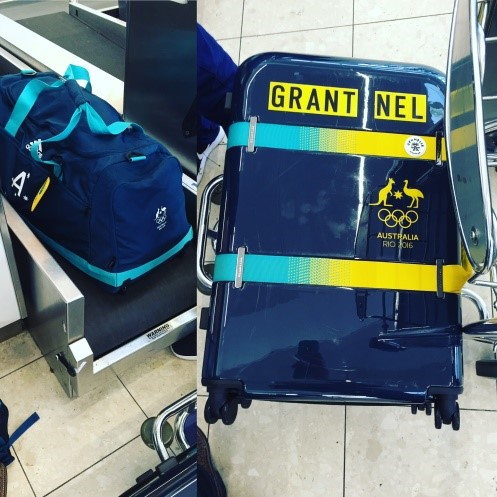 While this should have been an extremely exciting time, winning the event did not guarantee him a place in the Olympic Team. The selectors had a tough decision to make and it meant that the nerves didn't get to go away after the event had finished. After four excruciating weeks and many sleepless nights, he got the call that he was officially in the Rio Olympic Team!
Finally, the dream had become a reality.
I am so proud of Grant and I am super excited to be going to Rio to watch him compete. It is hard to put into words how exciting it is to see someone live a lifelong dream but I certainly wouldn't miss it for the world. I also know that the 15th and 16th of August will be the most stressful and nerve racking days of my life!
To keep up to date with Grant's Rio journey you can follow us on Instagram: @grantnel88 and @amanda.main26