Dreams Come True | Michelle's Blog
Published 12 August 2016 (AEDT) | Author Michelle Pablo
Michelle Pablo - Nikita Pablo's mum (synchronised swimming)
It has been exactly 19 months and 12 days since I have seen Nikita and I can feel the emotions and excitement building up in anticipation of seeing her in Rio.
From an early age when we moved from the Gold Coast to Aruba she had an affinity with water, both in the pool or every weekend in the ocean snorkeling and swimming in the clear blue Caribbean sea. So it was a natural progression for her to be involved in a water sport (especially in Aruba always sunny, 365 days).
I was quite surprised that her choice was synchronized swimming as my family are all active in sports like netball, hockey, football, soccer and even swimming, but not so much on the artistic side. But she loved this sport and would eagerly race home, finish her homework and get to the pool to train with her team mates.
When she was 13 one of her coaches asked her to write down what her goal was in this sport and her immediate thought to put down was to go to the OLYMPICS.
This was the seed that was planted and she was lucky and fortunate to be inspired along the way by some of her coaches who believed in her ability to get there.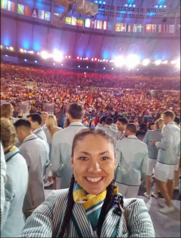 When she moved back to the Gold Coast to finish her study (bio-chemistry) she was fortunate to have the support of Duncan from Griffith Sports College and Marina her coach from the Gold Coast Mermaids to pursue this dream earnestly in the hope of wearing the green and gold. When she came back home to Aruba for the Christmas of 2014, I knew when it was time to say goodbye (I definitely could not hold back the tears and had to hug her a little bit longer).
She was going to be spending most of her time at training camps with the hopes of Olympic qualiftion. The distance apart has been extremely difficult for both of us but I have accepted this is her dream.
On her selection to the Australian Team my husband and I celebrated in Aruba as did her brothers, aunts, uncles, and cousins from Australia. All our family in Aruba, Australia and Scotland were up late and early depending on time zone watching the Opening Ceremony and bursting with pride seeing Nikita enter with the Australian Team, knowing this journey has been one that she will keep with her for the rest of her life, and yes she is an OLYMPIAN.
They are going up against the giants of synchronized swimming and are the real underdogs, but for Nikita to be on this journey with eight other team mates all with one goal to give their best is amazing.
As her mum I'm so proud so say my daughter had a dream and she didn't let go until she achieved it.